10 GBit Network
We use the latest networking technology featuring 10 Gigabit Ethernet. Get best of the best enterprise gear at affordable prices.
99.99% Uptime
Our Tier 4 datacentre locations feature the highest possible redundancy in networking, storage and power technology, making outages extremely unlikely.
Reliable Hardware
We expect the best and so should you. All of our equipment is based on the latest HP blade technology. We use top-of-the-line RAID 6 storage with ZFS, 15k RPM drives and super-fast SSD storage for applications that need it.
Customer Review
"I have implemented OpenCloud VPS solutions for a number of my clients, and have been extremely pleased with the performance and uptimes. The best thing I can say is that I don't spend a lot of time on maintenance because it 'just works'"
About OpenCloud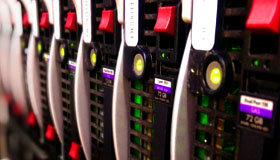 OpenCloud was founded in 2013. We aim to bring the highest quality cloud services at a price that makes business sense. We are technologists who love what we do, and our solutions are at the cutting edge of what is possible today. We welcome all technical challenges and pride ourselves on great customer service and support.